The In-Home Elder Care program helps seniors keep their independence and freedom in their own homes for as long as possible.
The In-Home Care Department began in 1968 at FSA and today, more than ever, serves as an effective alternative to institutionalized care for Genesee County seniors. We believe that allowing seniors to remain in their homes, with the support of family or friends, is crucial to helping them maintain a positive outlook and improve their quality of life. Outside skilled assistance, provided by our caring Elder Care staff, can be a part of that support system and help seniors maintain their independence longer than they might without help.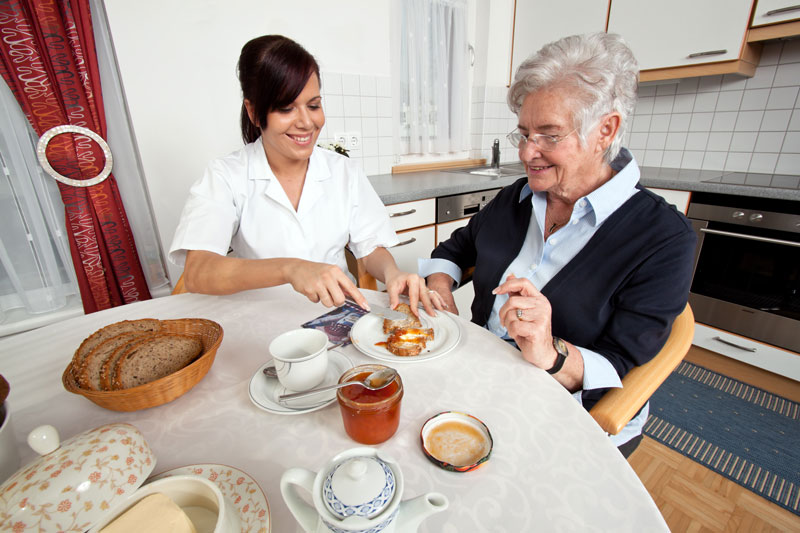 This program provides help with activities of daily living, such as bathing, light housekeeping and general assistance around the house. Staff visits usually take place one to two times a week, depending on our clients' needs. The level of care can be adjusted at any time to meet changing conditions. Caregivers have been trained to perform any combination of tasks at the discretion of the client or family.
Our office staff is always available to discuss any specific needs that might arise. Contact Diane Hogan, program director, via email or by calling 810-767-4014, ext 401.
This program and/or service is funded in whole or part by Genesee County Senior Millage Funds.
Your tax dollars are at work.
In-Home Care Services Include:
Light house cleaning of the main living area, such as a kitchen, the main bedroom, the main bathroom and living area with client's own cleaning products
Laundry, linen changing, and light ironing
Washing dishes
Grocery or pharmacy errands (does not include transportation)
Light meal planning and preparation
Assistance with eating, if required
Assistance with dressing
Oral hygiene
Hair care
Re-positioning in bed and transfers
Personal hygiene, including showering, bed/bedside bath, tub chair showering or sponge bathing, hair care, mouth care, and applying lotions. No cutting of toenails, fingernails, or hair is allowed.
Transferring /ambulation
Assistance with toileting/bedpan/incontinence care with cleanup of bath area afterward
Shopping and errands (we do not provide transportation for clients, although, shopping or pharmacy errands can be provided on a cash-only basis – no more than $50 (no cards or personal checks) and change & receipt will be provided to the client)
NOTE: This program does not provide healthcare services.
Frequently Asked Questions
What kind of background checks are done on your care-givers?
In-Home Caregivers and in-house staff have backgrounds checks and fingerprinting done through Michigan State Police.
Who qualifies?
Qualified persons must be at least 60 years of age and have physical or mental health needs for the services. Applicants will be screened by either a registered nurse or a social worker to qualify for the program.
How long do I have to wait for services?
Wait times can vary from 1 day to several weeks, depending on funding availability and openings.
What is the cost?
The cost is free for contracts that we have with either the State of Michigan or Genesee County Millage. The paying clients are based on a sliding fee.
Who serves as caregivers in the program?
The employees caring for the clients are trained caregivers, some are Certified Nurses Aides, and others are Medical Assistants.
What is usually the length of time you provide in-home care?
For those being served through the State or the County Millage, the length of service is dependent on the contract provided by those organizations. Paying clients may create a care schedule that fits their budget.
Jan Wiles, RSST
Assistant Director