It is well-known that grandparents can play an important role in children's lives. By listening, caring and simply being a part of a child's life, grandparents provide encouragement, support, stability and connectedness that can have a profound and lasting impact. They also serve as excellent role models and sounding boards. This is especially important for children who come from at-risk backgrounds or who face physical or emotional challenges.
The Foster Grandparent Program provides an opportunity for older adults (55 and older) living on a small income, the opportunity to give meaningful service to the community, by volunteering with special needs children. Each Foster Grandparent spends an average of 20 hours a week providing individual attention to children who are: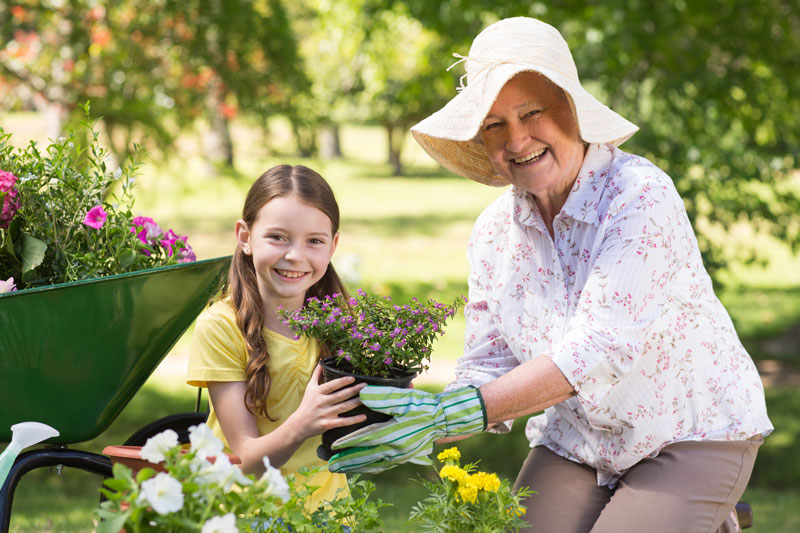 Developmentally Challenged
Chronically/Terminally Ill
Abused and Neglected
Learning Impaired
Emotionally Challenged
Physically Challenged
At-Risk
Foster Grandparent Program Facts and Figures
99% of FG say their life is better since they volunteer
74% depend upon the stipend they receive to meet basic needs
Average age of a volunteer in Genesee, Lapeer and Shiawassee Counties is 74
The average annual income of a foster grandparent is $9,800
68,904 hours of service were provided to special needs children in FY 2010
1,565 children received one on one attention from a foster grandparent last year
How the Foster Grandparent Program Helps Children:
97% of students demonstrate improved self esteem
84% have an improved attitude about reading
90% have an improved attitude about school
84% have improved reading ability
100% report increased social participation
Frequently Asked Questions
What do Foster Grandparents do?
Each Foster Grandparent is assigned to one or two children. On a typical day he or she spends time with the assigned child or children developing a special relationship. Foster Grandparents provide emotional support, respite for parents, role modeling and tutoring assistance.
What benefits do Foster Grandparents receive?
Each Foster Grandparent receives:
Tax-exempt stipend of $2.65 per hour
One meal each day of service
Annual physical
Recognition
Smock and badge
40 hours pre-service orientation
On-going monthly in-services training
Mileage/travel reimbursement
Regular supervision
Liability and excess auto insurance (for those driving their vehicles)
However the most important benefit is feeling needed and valued!
How do I get involved?
If you would like more information about serving in the Foster Grandparent Program, receiving the services of a Foster Grandparent or MDOT Title VI contact Gloria McCracken, Director, via 
email
 or call 810-257-3779.
Get in Touch
Robyn Johnston
Senior Companion Director & Foster Grandparent Director
Location: 940 South Grand Traverse Street, Flint, MI 48502
Email • Phone: 810-257-3769
Learn More About Robyn Johnston
Margietta Miller, AA
Foster Grandparent Program Office Manager
Gabby Parker
Foster Grandparent Supervisor
Donations to Our Agency are Always Welcome
Donations go a long way to help support this important program.
Our program takes pride in the fact that less than 20% of our budget goes to administrative costs.
$25 would pay for recognition for one volunteer for one year
$200 would pay for one volunteer's lunch for the year
$2,766 would fund the stipend for one volunteer for one year of service (1,044 hours)
$5,000 would cover the cost of one volunteer's stipend, meal/travel reimbursement, recognition and supervision for one year
The Foster Grandparent Program is located at 940 South Grand Traverse Street, Flint, MI 48502.
To make your tax-deductible donation, call Robyn Johnston at 810-257-3779.