The Senior Companion Program (SCP) is a national older adult volunteer program in which seniors help other adults with special needs maintain independent living.
The mission of the Senior Companion Program is to provide meaningful retirement opportunities for limited-income persons age 55 and better by assisting other adults and seniors who need person-to-person support because of loneliness, illness or disability. In return for this service, the volunteer receives a tax-exempt stipend, which is not considered income by federal law. The stipend helps the senior volunteer with the cost of volunteering and to meet other living needs that cannot always be met on a limited income. Senior Companions are considered volunteers and also receive other benefits in addition to the stipend.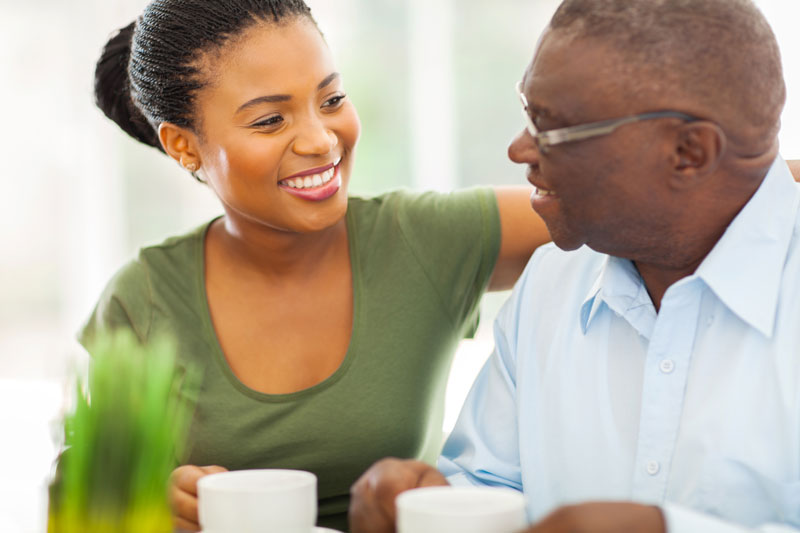 The seniors who become Senior Companions experience meaningful service to others in their community while finding new discoveries and making new friends. It is a program that benefits the volunteer, client and the community.
History of the Senior Companion Program
The Senior Companion Program began nationally in 1974 and locally in Genesee and Lapeer Counties in 1984. Funding for the program comes through the Corporation for National and Community Service, Michigan Office of Services to the Aging and MDOT, as well as local support.
Senior Companion Program Facts and Figures
51 Senior Companion volunteers were active in the program
273 clients received the assistance of a Senior Companion
41,821 hours of service provided in the community
94% strongly agree that volunteering keeps them active
92% strongly agree that they feel useful when they volunteer
90% of clients reported that they had an improved quality of life
93% of clients reported that SCP visits assisted with their independence
Frequently Asked Questions
What benefits do Senior Companion volunteers receive?
All of the following:
40-hour orientation
Smock and photo ID
Tax-exempt stipend
Annual physical
Recognition
On-going monthly in-service training
Mileage/travel reimbursement
Assistance with meal costs
Supplemental accident and liability insurance while on duty
Paid leave and holidays
Regular supervision by program staff
A chance to make new friends
What special need adults can be served by a Senior Companion?
Senior Companion volunteers serve special need adults who are 21 years of age or older with an emphasis on the older adult. Some of the adult's special needs are: developmental disabilities, mental illness, frail health, dementia, physical impairments, visual impairment, emotional problems, learning disorders, loneliness and isolation. These special needs adults may live by themselves in their home, with family, foster, group or nursing homes. They can also be in an adult day care center, adult education program or other special adult programming.
Do Senior Companions have background checks?
Yes. All Senior Companion Program staff and volunteers have the required FBI fingerprinting check as well as a National Sex Offenders check.
What does a Senior Companion Volunteer do?
Senior Companion volunteers are required to serve adult clients an average of 20 hours per week. Typically Senior Companions visit three to five clients per week, working one-on-one to develop a close mutual relationship, which is meaningful and helpful to both the client and the volunteer. Senior Companions assist in a variety of activities with their clients such as:
going for walks
sitting and talking
doing crafts and board games
reading to the client
assisting with meal preparation
helping with mail or dealing with the public
assisting with shopping and/or medical appointments
other assigned activities.
provide respite
provide non-medical support
Senior Companion volunteers provide support and attention for clients in a consistent fashion that is unique to the program.
How are Senior Companions matched with adults who have special needs?
The Senior Companion Program has Memorandums of Understanding with non-profit and/or health proprietary agencies/organizations in the community. These agencies/organizations refer identified clients to the Senior Companion Program whom they feel will benefit from having volunteer assistance. Senior Companions are then matched with an identified client. All homes/sites are pre-screened to ensure they are appropriate for a Senior Companion volunteer.
If you would like more information about the Senior Companion Program call us at 810-257-3769 or by email.
Get in Touch
Robyn Johnston
Senior Companion Director & Foster Grandparent Director
Location: 940 South Grand Traverse Street, Flint, MI 48502
Email • Phone: 810-257-3769
Learn More About Robyn Johnston
Amanda Ramberg
Senior Companion Program / Foster Grandparent Program Supervisor
Ann Childs
Senior Companion Program Supervisor
Donations to Our Agency are Always Welcome
Donations go a long way to help support this important program.
Our program takes pride in the fact that less than 20% of our budget goes to administrative costs.
$25 would pay for recognition for one volunteer for one year
$200 would pay for one volunteer's lunch for the year
$2,766 would fund the stipend for one volunteer for one year of service (1,044 hours)
$5,000 would cover the cost of one volunteer's stipend, meal/travel reimbursement, recognition and supervision for one year
The Senior Companion Program is located at 940 South Grand Traverse Street, Flint, MI 48502.
To make your tax-deductible donation, call Robyn Johnston at 810-257-3779.